To celebrate the end of summer camp, we're inviting Girl Scouts and their families (whether you've participated in Summer Camp 2020 or not!) to join us for Camporee 2020: The Ultimate Family Outdoor Experience!
Continue >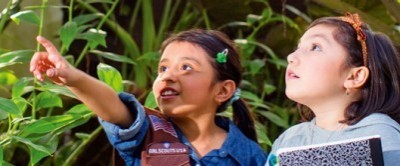 Get ready to change the world! Now Girl Scouts can earn 24 new badges that take leadership to the next level. There's never been a better time for girls to practice ambitious leadership. This year, we've added new badges in the categories of Entrepreneur, STEM Career Exploration, Automotive Engineering, and Civics.
Continue >

Make Girl Scouts a possibility for every girl during these uncertain times by making a gift to Powering Her Promise. Together, we can make a better world for girls and ensure they can continue their adventures, learning, and sisterhood in Girl Scouting. Thank you for investing in girls!
Continue >

We stand together as Girl Scouts against racism, violence, and hate. We are committed to helping our volunteers and families find the tools and resources to guide girls through these challenging times, and to help girls take steps to listen, to learn, to understand, to take action, and to make a difference. We've begun to compile resources on our blog; expect to hear more from us soon.
Continue >

Congratulations to our CEO, Roni Luckenbill, named a 2020 Career Women of Achievement by YWCA Greater Cincinnati. She is one of eight women honored as outstanding role models for their leadership, vision, community service and renowned professional success. We couldn't be prouder to see Roni's tireless and passionate advocacy for girls and women recognized and celebrated by the community!
Continue >

Seven New Members-at-Large Elected to Board of Directors
02 Jun 2020
"We're honored to have such a strong group of business, academic and nonprofit professionals serving on our board this coming year," said Roni Luckenbill, chief executive officer of Girl Scouts of Western Ohio. "The diversity of their expertise will be invaluable as we develop strategic priorities that make it possible for every girl to benefit from the Girl Scout Leadership Experience."