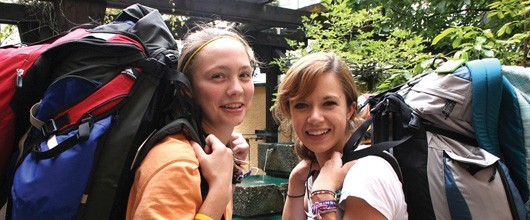 Travel
Girl Scouts love to travel—from the field trips they take as Brownies to the global adventures they go on as teens. If you love exploring different places and cultures, then Girl Scouts is the place for you.

Troop Trips
Troops go on all sorts of adventures together! Whether you're visiting your favorite Ohio landmark, taking in a Broadway show in New York City, or visiting the birthplace of Girl Scouts' founder, Juliette Gordon Low, in Savannah, Georgia. And you can plan even bigger adventures around the world!
The girls plan the trip (based on their comfort level—our travel progression chart will provide some helpful insights!). Then, the adult volunteers will need to complete the Troop Trips and Travel training on gsLearn and fill out the Troop Trip and Activity Notification Form to get council approval and guidance. After that, you're on your way!

Destinations
Individual Girl Scouts can check out Girl Scout Destinations, the ultimate adventure program for girls ages 11 and older. With a ton of different trips to apply for every year—from surfing camp on the east coast and breathtaking hikes out west, to the crazy-cool wonder of new cultures abroad—there's something amazing for everyone to experience.
Make friends from all over the country as you travel with Girl Scouts from different states, see and learn new things, and pack your bags full of inspiring, life-changing experiences and memories. Find your trip today!

Summer International Travel
Each summer, Girl Scouts of Western Ohio partners with EF Tours for Girls to show you the world! Girls vote on international destinations and travel each summer with other girls and volunteers from the council.
We are delighted to personally invite you to join Girl Scouts of Western Ohio's upcoming summer 2023 international trip to the Alps and the Mediterranean Coast! Our travels will find you enjoying the splendid views of the Swiss Alps, indulging in a fondue dinner, breathing in the salty air on the beaches of Italy and becoming mesmerized by the famous mosaics while visiting Park Güell.

Where can you go?  Places like China, Costa Rica, Switzerland, Patagonia, Peru, Scotland, Germany, Mexico, and more!
How far will your Girl Scout experience take you? That's up to you!